Thanks the wonderful creation that is
Pinterest
, I discovered this amazing recipe for Slutty Brownies. Yup you read that right. S-l-u-t-t-y Brownies.
Originally posted on the blog -
The Londoner
- Slutty Brownies have earned their name because "they're oh so easy and more than a little filthy". I can officially say, now that I have baked and consumed more than my fair share of these creations, that is the most accurate description.
All you need to create these amazing brownies are the ingredients shown above. Maybe a bit of oil depending how thick your cookie/brownie mix is. The wonderful thing about these brownies is the recipe doesn't expect you to make anything from scratch. I mean, you could if you wanted to, but why bother. These are amazing, even if the ingredients come from a box. Also make sure you buy real Oreos. Name brand cookies are just not the same.
Preheat the oven to 350 F. Then the first step is the cookie dough. Mix it up according to package instructions. It it seems to thick add a little oil/water to make it easier to spread in the pan. Piece of advice - do not skip putting the wax paper in the baking dish. These brownies will glue themselves to the pan and you'll save yourself a lot of scrubbing. Once you have the cookie dough spread out across the pan add a layer of Oreos. As many as you can reasonably fit ;)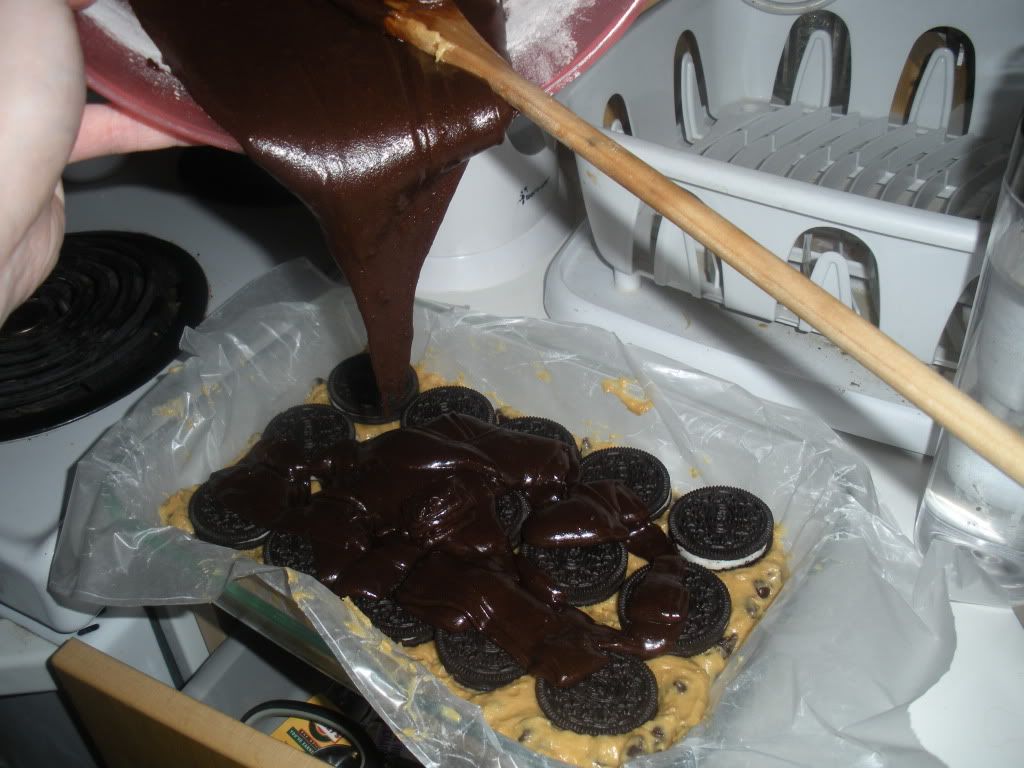 Next step - mix up the brownie mix and pour it over top of the Oreos. Try and make it as even as possible.
And that's it for assembly! Seriously these are the easiest brownies ever. It maybe took me 15 minutes to put everything together. Then you throw it into the oven to bake. The recipe called for 30 minutes so that's what I did. It was baked when I took it out but I think it could have used more time. Next time I make this (and there will definitely be a next time) I'll probably leave it in for 40 minutes. Now if you can restrain yourself let them cool for about 10-15 minutes.
And voila! The finished product. These are so delicious. The Oreos melt a little inside and you get the best of both the cookie and brownie world. The Londoner recommends having it with ice cream and I do as well. There's just so much chocolately goodness that a bit of vanilla ice cream helps balance it out.
These are ridiculously easy. I can't stress that enough. And they're guaranteed to be a hit. They didn't last long in my apartment and I'm already being asked to make them again. I hope you'll try making them for yourself. Let me know if you do and how they turn out!