In January I wrote a post about the strange and crazy things I discovered while shopping in America (check it out
here
). Well the other week I went back and found even more incredible things!
True to fashion I found even more bizarre food - particularly candy.
Though I'm sure this many of these candies taste absolutely fine, I have to question the names. When I'm in the mood for something sugary "Baked Beans" isn't what my mind jumps too. I'm also not 100% why the caramel chews are named zippers.
Beyond these strange candies however most of the things I found this trip were pretty amazing. Strange and usually incredibly unhealthy but amazing.
I fell in love with this giant cupcake pan. It took a lot of willpower and reminding myself I have no storage space to walk away from it. The bottom looks like it's a little bit larger than your average cake pan and it also comes with a mold for the top half (under the icing). I'd love to make these as birthday cakes.
While at the grocery store I also stumbled across some amazing icing in the baking aisle. It would be perfect for these jumbo cupcakes.
I think I would have to make 3 giant cupcakes. One for each type of icing. And if that wasn't enough dessert for the day...
Yup that's a cinnamon roll with chocolate icing. Why haven't I had one of these before?!?!
After a long day of shopping my family and I decided to get some dinner at what looked like a VERY popular restaurant (there was a half an hour wait at 3:00 pm) called the Texas Roadhouse. In it's simplest description this place is a steakhouse. In a more accurate description its a steakhouse to end all steakhouses. (Sorry for the dark pictures! My flash didn't want to work)
We started with beer and rolls. This giant only cost $2.25! Don't get prices like that in Canada. And the rolls came with the most amazing cinnamon butter. I could've had them the entire night and been happy.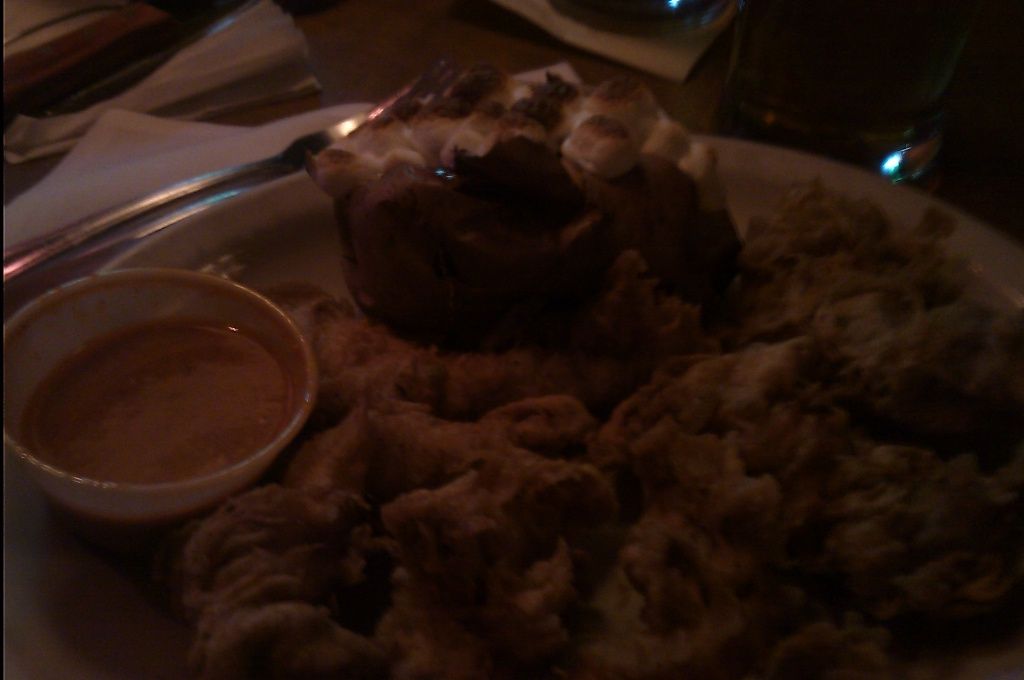 I'm not much of a red meat eater, so I ended up getting the chicken fingers with a sweet potato as a side. They came with a very spicy sauce and had a pretty light breading which was also pretty spicy. Thankfully I like spicy food so this was a huge plus for me. The piece de resistance however was the sweet potato. I decided to get it "loaded" which meant it came with brown sugar and marshmallows on top. Want a better look?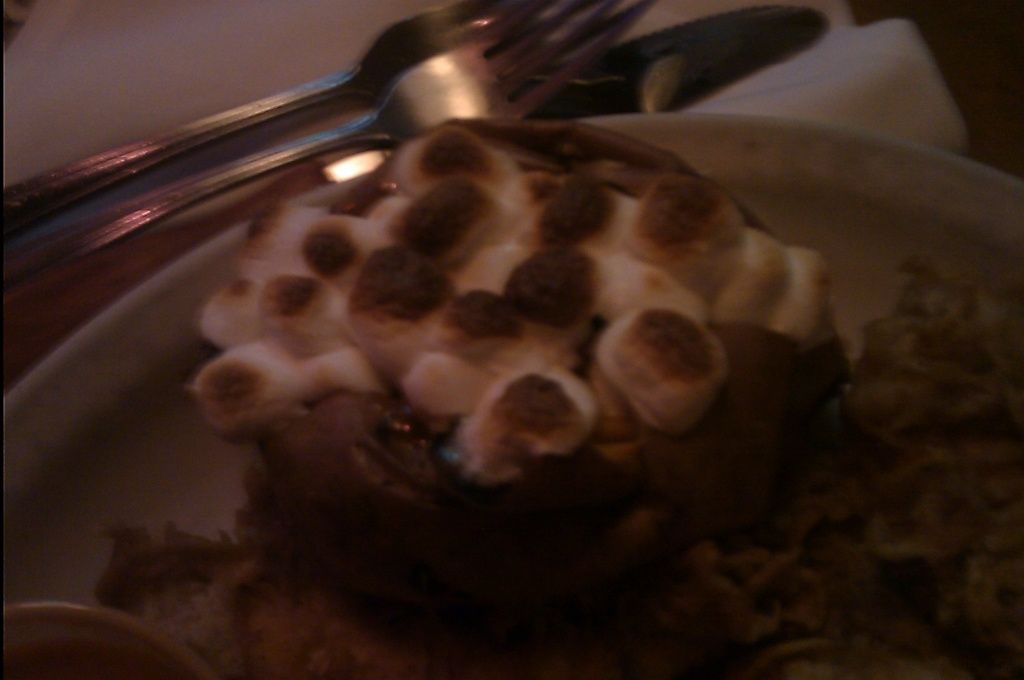 Mmmm. It was a sugar junkie's heaven. My family thought I was crazy for ordering it but it ended up being my favourite part of the meal. The chicken fingers were quite greasy and heavy and I found I couldn't eat more than two of this one. But I ate every last bite of this beautiful sweet potato.
All in all this was a GREAT trip to America and though most of the things I found are incredibly bad for you they were still things I totally wanted to buy and try out for myself.